The Inflation Reduction Act (IRA) was signed into law on Aug 16, 2022 by President Biden after Senate and House Democrats unanimously passed the legislation. Not a single Republican voted for the bill in either house.
Along with lowering health care costs for Americans and fighting increases in the cost of living, the bill is the "most significant, most comprehensive, most complete, most serious climate bill that the Congress has ever passed." While there is still more to do to fully tackle climate change's existential threat, we've highlighted below how the IRA will help Washington households switch to cleaner energy and help meet our climate goals.
Lower Energy Costs
The Inflation Reduction Act will lower the cost of energy efficient appliances for Washington families, reducing the cost of their utility bills each month. The IRA covers between 30% and 100% of the cost of:
Installing new appliances, including super-efficient heat pumps that both heat homes in the winter and cool them in the summer. In Washington, millions of households will benefit.
Installing solar panels and their batteries. There are no income limits for this solar program, and experts estimate that over 160,000 additional Washington households will install solar panels as a result of the IRA.
Community solar projects—owned by local businesses that sign up families to save on their electric bills—with additional savings for projects at affordable housing properties and in low-income communities.
Small Business Support
Commercial building owners can receive a tax credit to support energy efficiency improvements that deliver lower utility bills. Other programs that will benefit small businesses include covering 30% of the costs of installing low-cost solar power and of buying clean trucks and vans for vehicle fleets.
Electric Vehicle Discounts
The Inflation Reduction Act will make it cheaper and easier to purchase an electric vehicle (EV), with discounts up to $7,500 for new EVs and $4,000 for used EVs, helping middle-class Americans skip the gas pump and slow climate change. In Washington, millions of people can receive these discounts and will benefit from our new state plan to build EV charging stations along our highways.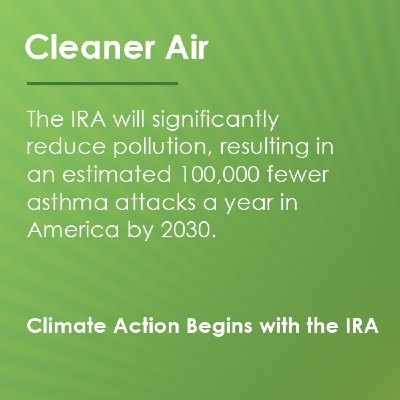 Clean Air
The IRA will significantly reduce pollution, not only slowing climate change, but improving our local air quality. This will result in better health for our communities, and an estimated 100,000 fewer asthma attacks in America in 2030.
Rural Opportunities
For the first time ever, electric cooperatives which serve about 175,000 homes and businesses in Washington will be eligible for clean energy tax credits. The IRA dedicates funds for rural electric cooperatives to make them greener and more affordable for customers.
Climate Action Begins with the IRA
Want to help Washington take the next step in fighting climate change with the funding from the IRA? Subscribe to the Fuse list today and we'll send you action alerts when critical climate bills are up for a vote in the state Legislature this winter!