Since our founding in 2007, Fuse's main goals have been giving ordinary people a stronger voice in politics and helping progressives win more often. Our organization has grown and adapted a lot over the last 11 years, but our Progressive Voters Guide remains our most popular and powerful tool to achieve both of these goals.
How It All Began
Fuse launched the first Progressive Voters Guide, or PVG, in 2008 as a way of helping people learn more about ballot measures and local candidates that don't receive as much attention. We relied heavily on our partner organizations to promote the guide, including Equal Rights Washington, NARAL, Planned Parenthood, SEIU 775, MoveOn.org, and Washington CAN. The 2008 PVG covered 120 races and received 70,000 visitors.  Since then the Progressive Voters Guide has grown to include more than 250 races each year and has reached more than 1.6 million voters. In priority races where we promote the PVG aggressively, we've seen upwards of 28 percent of all people who cast a ballot use our guide.
Jay Arnold, our original tech guru and founding father of the PVG, shared three valuable lessons we learned in 2008 that still shape our strategy today:
Cover the entire ballot.

We continually get feedback from members with questions or suggestions on more local races to include.

Release the guide as early as possible.

The original guide launched as a beta for partners to review in early October, the weekend before ballots dropped. We have released the guide earlier each year since.

Test and measure everything.

 The analytics from 2008 established a pattern that we still use today.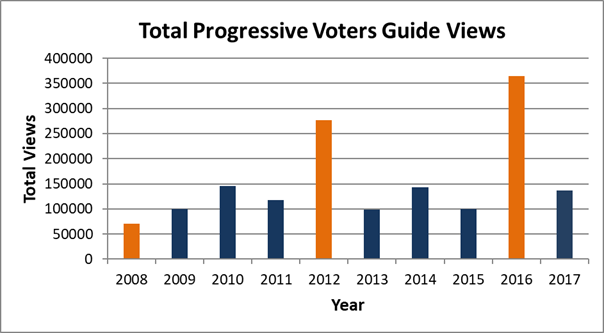 How Do We Decide Who To Recommend?
This is the most common question we get about the PVG. Our team of five starts planning each year's PVG in March by creating a huge spreadsheet of all the candidates running for office across the state. From there, we dive in by researching each candidate's website, voters' guide statement, social media posts, and news articles, as well as the legislative records of incumbents.
Most of the races we cover are straightforward – often between a progressive Democrat and a conservative Republican. As time goes on, we develop a list of more complex races, as well as races where we're struggling to find reliable information. At this point, we conduct interviews with local activists and political experts across the state who can give us on-the-ground information. In particular, we rely heavily on information from our organizers and volunteer councils in Spokane, East King County, Pierce County, South King County, and North Central Washington.
The third factor we consider are the endorsements of our partner organizations. We have two dozen progressive partner organizations across the state that conduct interviews and evaluate candidate questionnaires. We include their endorsements and use them as the backbone of our decision-making in competitive races.
The final factors we consider are equity and progressive values. Washington is becoming more diverse each year and we believe representatives should reflect and be accountable to the communities they are elected to serve. That's why we work so hard to elect more women and candidates of color, as well as candidates who will pursue a bold racial justice agenda in office.
Occasionally we will take sides in a progressive vs. progressive race if we believe their opponent has behaved in a way that violates our values. For example, this year we recommended Melanie Morgan for state House over her Democratic opponent, David Sawyer, because of substantiated allegations of sexual harassment by Sawyer in the legislature. In rare cases, we will recommend a clearly more progressive candidate even if their opponent has received endorsements from our partners.
The Metrics Behind the Magic
A LOT of people use the Progressive Voters Guide. You might already know that, but you may not know the who, what, when, where, and how of the guide.
Who: Young people make up a much larger share of our users than the overall electorate. In fact, the single biggest group of PVG users in the 2016 general election were millennials (24-35 years old).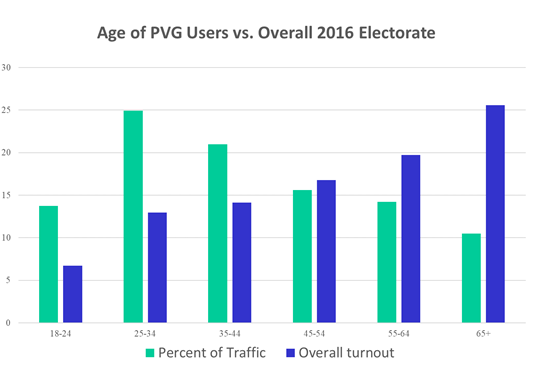 What: Our most sought-after recommendations each year are for ballot measures. Washington's open initiative system means that we sometimes have five or more confusing measures on the same ballot. Thousands of voters each year visit the PVG to learn the facts so that they can make an informed voting decision.
Where: The PVG is truly a statewide guide. Voters from 311 cities and towns across Washington used the Progressive Voters Guide in the 2016 general election. Even after our website goes live, we try to add more local candidates and measures based on the questions we get from activists across the state.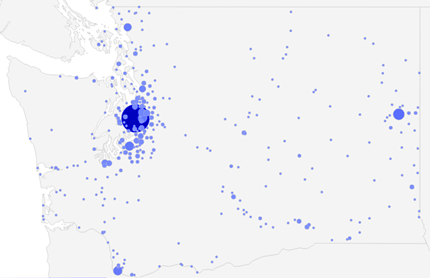 When: Nearly all of our users access the PVG starting 20 days before the election, the day ballots are mailed out. Our day-to-day website visits closely parallel when ballots are returned, making us even more confident that people are using our recommendations as they vote. Our traffic spikes the day before each election, with our peak being roughly 8pm the night before. We set our record in 2016 when 685 people were simultaneously visiting the PVG website during halftime of the Seahawks Monday Night Football game!
How: The 2016 general election was the first year in which a majority of PVG users accessed the website on a mobile device. Our tech team has worked hard to streamline the site for mobile users since 2013 and their efforts have clearly paid off!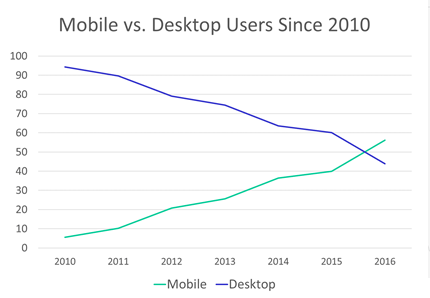 We spend thousands of hours each year putting together the Progressive Voters Guide so that you can make informed choices about the candidates and initiatives on your ballot. Please share the guide with your friends and family, and remember to return you ballot by August 7!