There was so much at stake this general election. While the final votes are still coming in in a few counties, it's clear that Washingtonians fought hard for progress in the face of unprecedented corporate spending. From Amazon's $1.5 million in Seattle and hundreds of thousands spent by big developers in Spokane to tens of thousands spent by the fossil fuel industry in Whatcom County, voters were inundated with campaign messages pushing a conservative corporate agenda.

Despite losing some heartbreaking races, we're proud that progressives across the state came together to fight back against this corporate power play. Fuse members like you made your voice heard and helped progressives win by knocking on more than 10,000 doors and sending 15,000 texts to voters in key races! In addition, congratulations in particular to Fuse board member Jeremy Barksdale and our Spokane council leader Nikki Lockwood on their successful elections.

Here are some election highlights across Washington:

Another record-breaking Progressive Voters Guide

When we say your support matters, we mean it. Thanks to Fuse members donating and sharing the guide, our Progressive Voters Guide continues to grow in size and influence every year, and this was our first year of our guide's nationwide expansion.

An incredible 195,000 voters in Washington used our Progressive Voters Guide recommendations for 210 candidates and ballot measures in the general election! We were able to reach one out of every 10 voters who cast a ballot this year and more than one out of every four voters in our priority races. In addition, we launched our first voters guide in another state this year, starting in Virginia! With our partners at Progress Virginia, our Virginia guide covered 249 races and reached 106,000 voters! We'll have more information soon about our next state for the Progressive Voters Guide.
Pierce County

We had several big victories on Tuesday in key races in Tacoma and Pierce County. Progressive Kristina Walker sailed to victory in her race for Tacoma City Council, helping preserve a pro-worker, pro-environment majority. We're also very excited that Kristin Ang was elected to the Tacoma Port Commission where she will fight to hold big polluters accountable and protect our air and water quality. In Puyallup, we backed leaders who have a progressive vision for addressing homelessness in our communities. Congratulations to candidates Robin Farris, John Palmer, and Ned Witting on their victories on Tuesday!

South King County

There was a lot at stake in this year's South King County's city council races. In SeaTac, the city council has long been represented by conservative voices that don't reflect the city's diverse residents. Two amazing new leaders, Senayet Negusse and Takele Gobena, are leading their races for city council.

Such close victories wouldn't be possible without the tireless work of our South King County Organizer Yvette Maganya as she led a team of fellows on an incredible GOTV campaign to support the candidates. In addition to hosting many fantastic get-out-the-vote days in the community, Yvette organized in-language phonebanks calling Somali and Ethiopian voters.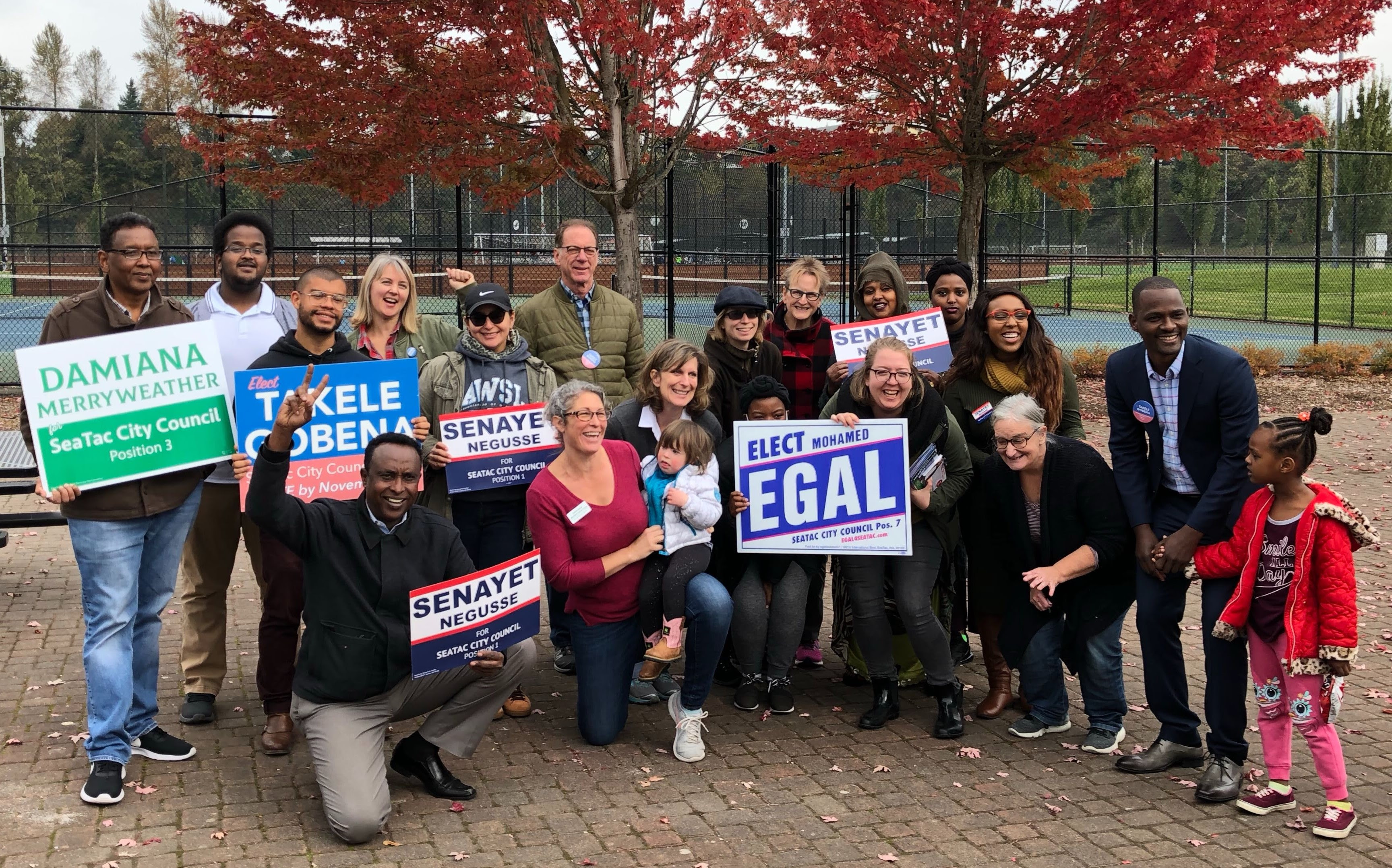 Spokane

We were incredibly excited about the possibility of putting a progressive in the mayor's seat in Spokane, but wealthy corporate donors weren't going to give it up without a fight. In both the primary and general election, big developers and realtors spent hundreds of thousands of dollars pushing conservative Nadine Woodward, who they could bank on to support more sprawl and building outside city limits. Led by our Spokane-based Program Director Jim Dawson, our Spokane team worked very hard this year to create TV ads, newspaper articles, and TV stories to reach voters. You can watch and read some of the coverage we helped create on KXLY, KREM, and the Spokesman Review. While Stuckart's race is over, progressive Breean Beggs won his race for city council president. Also, congratulations to Fuse volunteer council leader Nikki Lockwood for winning her election for Spokane School District Director.

We're excited to keep up the momentum and keep fighting to protect our immigrant friends and neighbors, winning on environmental protections, and more in Spokane.
Seattle

It's no secret that big corporations were attempting to buy seats on the Seattle City Council this election. Amazon alone poured a record $1.5 million dollars into council races this year with little to show for it. Progressive candidates won in in six out of the seven races, maintaining a strong majority on the Seattle City Council. An incredible 60,496 people used our Progressive Voters Guide in the city of Seattle – nearly one out of three people who cast a ballot! Seattle voters spent an average of 24 minutes reading our recommendations.

Congratulations to Lisa Herbold, Tammy Morales, Kshama Sawant, Debora Juarez, Dan Strauss, and Andrew Lewis on their victories.

Whatcom County

In one of the most exciting and tightest wins of the election, it appears that Satpal Sidhu was narrowly elected Whatcom County Executive and Carol Frazey won her race for Whatcom County Council. We won't know for sure for a couple of more days, but this is particularly impressive given that fossil fuel companies spent tens of thousands of dollars trying to elect their hand-picked candidates. Together, Sidhu and Frazey will protect Whatcom County's clean air and water for future generations.

East King County

Bellevue
We're thrilled that Fuse board member Jeremy Barksdale was elected to the Bellevue City Council! His election, along with the successful elections of John Stokes and Janice Zahn, help preserve a progressive majority leading the biggest city in East King County.

Sammamish
One of our top priorities this year was to elect a progressive slate to the Sammamish City Council, but we're sad to say Rituja Indapure, Karen McKnight, and Karen Howe fell short on Tuesday night.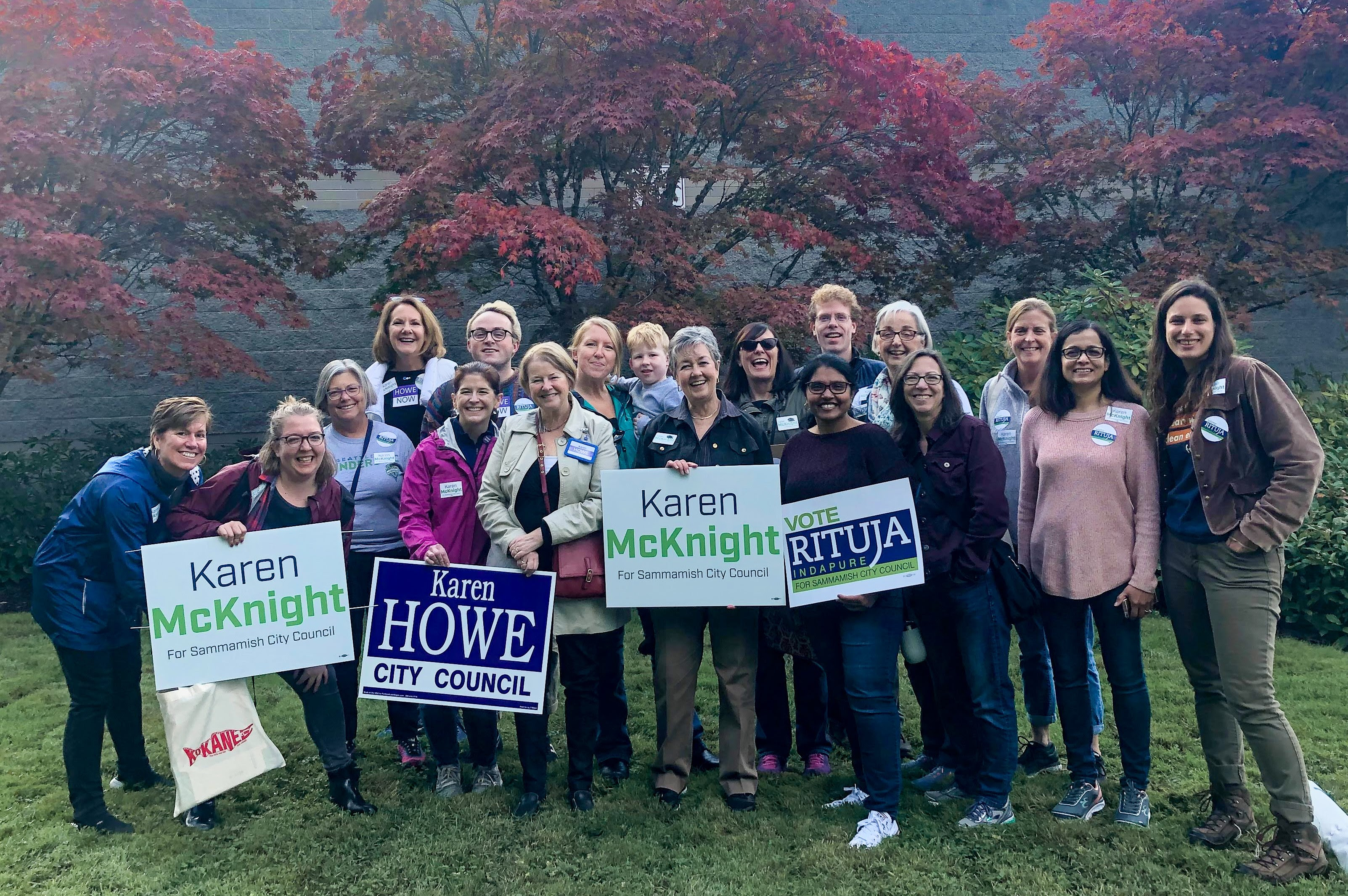 I-976

In one of the biggest disappointments of the election, Tim Eyman's disastrous I-976 will pass by a narrow margin. Fuse joined a coalition of progressive activists across the state to put in hundreds of hours in support of a no vote. Despite our combined efforts, it wasn't enough to overturn Eyman's deceitful messaging.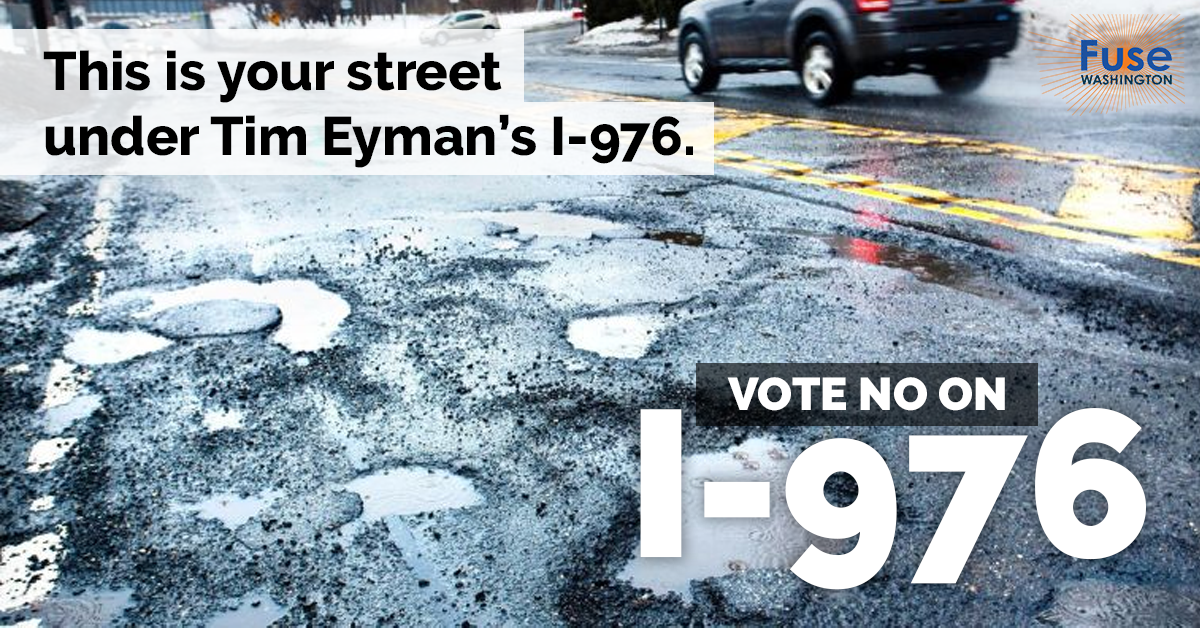 What does this mean for Washington? It will account to a loss of $4 billion in the coming years that would have gone into local street repairs, developing our bus and train systems, bridge repairs, and so much more. While we can expect legal challenges and lawsuits to the initiative's harsh measures, we plan to do all we can in the months ahead to mitigate the damage to our vital transportation infrastructure across Washington.

Referendum 88/I-1000

Referendum 88 appears that it will fail by less than a percentage point, meaning that affirmative action will not be allowed again in state employment, contracting and public education. This important measure would have leveled the playing field for veterans, women, and people of color in government employment in Washington, but no matter what, we will continue to strive for Washington to move into a more equitable future for all.

What's Next?

As we look at the places where we didn't succeed, one of the main factors working against us was low turnout. When more people vote, progressives win, and we absolutely must win in 2020. 
As we prepare for a critically important 2020 election cycle, we must redouble our efforts to ensure progressives turn out to vote. That means growing our organizing staff across the state and expanding our communications reach online and through the press. As a grassroots organization, we rely on the support of donors like you each year to fuel our work. Almost 400 people already donate an average of $15 a month and we're looking to build this critical base of support to 500 for 2020. Will you chip in to increase turnout and win in 2020?