Although some of last week's election headlines are pretty rough, here at Fuse we're encouraged by the dozens of progressive candidates who won local races in every corner of the state. Many of them defeated far-right opponents. This diverse slate of candidates represents the future of our movement and many of them will be on our ballots again seeking higher office in the years to come.

We've included a summary of some of the key races we've been following below. But first, we want to say thank you. Without your donations, time spent phonebanking and canvassing, and your support for the Progressive Voters Guide, we would never have been able to help elect so many incredible candidates in their campaigns. Here's our rundown:

Spokane
One of our top priorities this year was defending Spokane's progressive city council and school board against right-wing candidates financed by conservative developers.  We're excited that progressive Zack Zappone is ahead and has a good chance to win his race for Spokane City Council, despite a flood of negative ads. In addition, both of the Fuse-endorsed progressive candidates for Spokane School Board were victorious. Congratulations to Dr. Melissa Bedford and Riley Smith! We organized a coalition of progressive partners to mobilize thousands of infrequent voters in Spokane to stand up to big developers. While Naghmana Sherazi fell short in her bid to expand the progressive majority in Spokane, we know she'll continue to be a powerful progressive leader in the community.

King and Pierce Counties
We continued to focus our organizing efforts on South King and Pierce Counties this year. We're thrilled to see former Fuse fellow Kiara Daniels win her race for Tacoma City Council, Position 6, and are very excited about Mohamed Egal, Iris Guzman, and Jake Simpson's wins in SeaTac! Their victories are the culmination of a multi-year effort to flip SeaTac's Trump-supporting city council. Though Anne Artman did not emerge victorious in Tacoma, we believe that the next generation of Pierce County leadership will be champions for cleaner water, representation for historically marginalized communities, and much more. We're also happy to see Hamdi Mohamed and Toshiko Grace Hasegawa become the first women of color on the Port of Seattle.

We also helped expose an anti-vaccine insurrectionist running for hospital commission in Renton. You can listen to the story we generated on KUOW here. Her opponent, progressive Monique Taylor-Swan, appears to have won a narrow victory!

Thank you so much to our fellows Evelyn, Stella, and Anthony who helped bring home victories in South King, Pierce County, and beyond with many, many hours of calls, canvasses, and more. Overall, Fuse staff and volunteers knocked on more than 2,500 doors and texted thousands more of voters in support of progressive candidates!

Fuse Fellow Evelyn registering voters in SeaTac
East King County also featured two high-profile county council races. We're excited that progressive Sarah Perry beat longtime Republican incumbent Kathy Lambert in a race that featured sharp contrasts between the candidates in their vision for King County. While Lambert continued to push an antiquated Republican agenda, Perry moved forward a plan on smart growth management and protecting natural areas.

We're disappointed that our former board member Ruth Lipscomb is behind in her race for Bellevue City Council. Eastside business groups spent nearly $200,000 on that race to defeat her. We were heartened that Jane Aras and Joyce Shui defeated far-right candidates for Bellevue School Board in a race that paralleled the national debate about teaching racial history in schools. Fuse staff and volunteers knocked on doors all over Bellevue and sent thousands of texts to turn out progressive voters in Bellevue.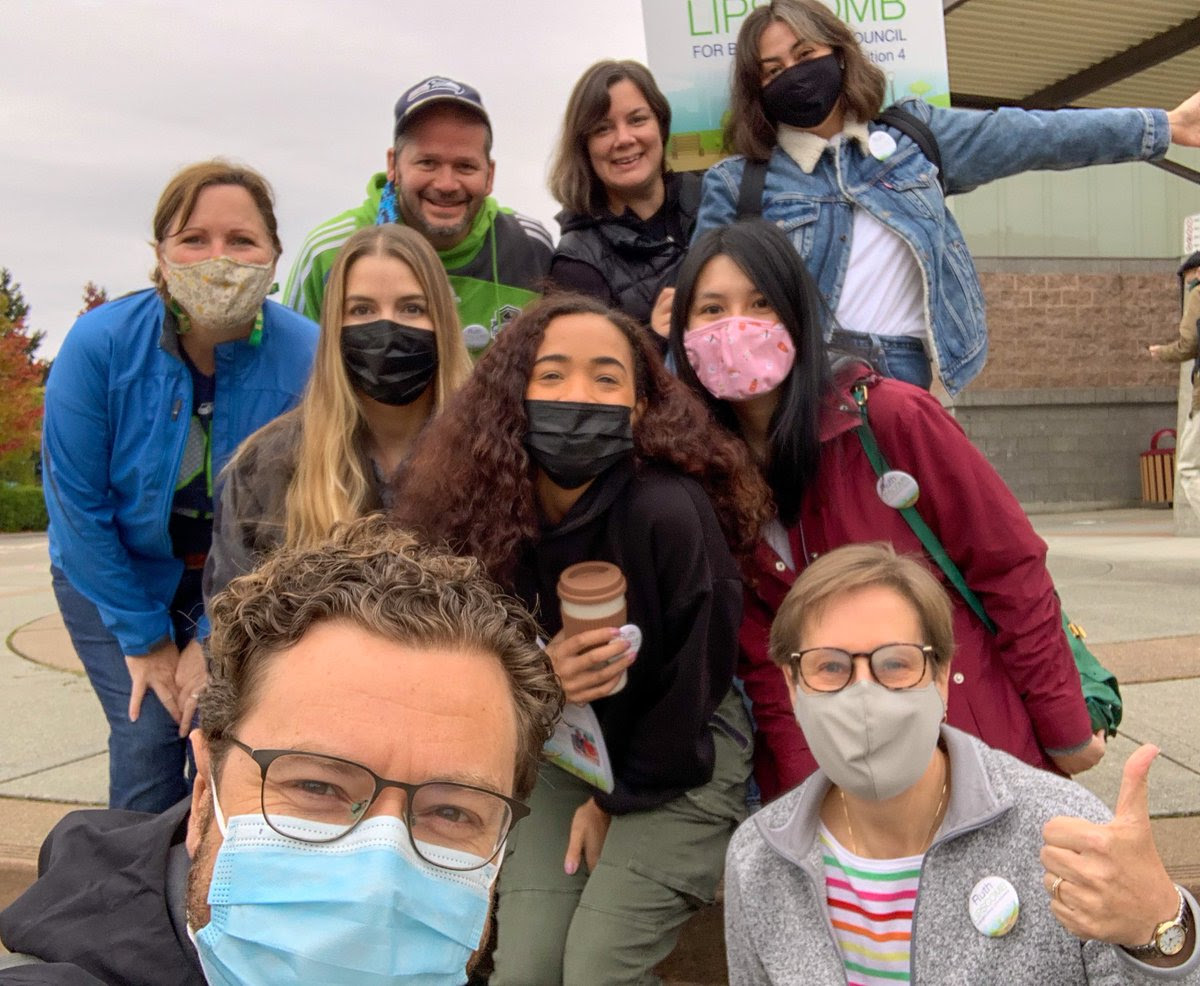 Fuse staff canvassing for Lipscomb for Bellevue City Council
Seattle
Seattle's highest-profile races this year reached the national stage, with endorsements coming in from Bernie Sanders and Elizabeth Warren for candidates like Lorena González, Nikkita Oliver, and Nicole Thomas-Kennedy. All three candidates came up short in the face of huge opposition spending and an electorate that was restless about homelessness, crime, and affordability. We were happy to see progressive incumbent Teresa Mosqueda head to a solid victory in Position 8.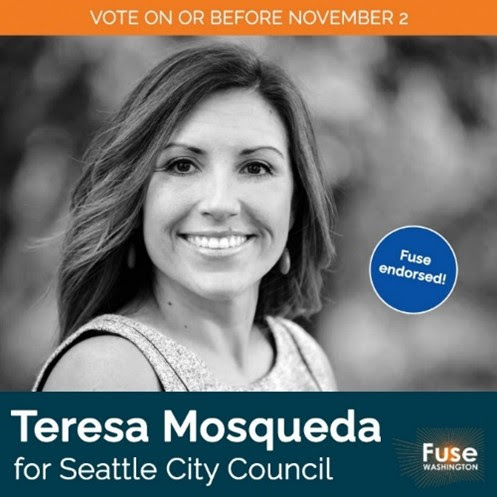 It's tough to see a law and order Republican - Anne Davison – in the city attorney's office. We hope that Mayor Harrell will heed the voices of many in Seattle who are ready to uplift our communities with solid plans to make housing more affordable, tackle homelessness, expand oversight of policing, and more.

Emerging Progressive Leaders
While they didn't attract all the headlines, we're very excited about many first-time candidates who won their races this year. Here are just a few of our favorites:
Kristina Michele Martens won and will be the first Black member of the Bellingham City Council.
Louis Harris defeated a big Trump donor in Mukilteo.
Linda Redmon prevailed over the incumbent mayor of Snohomish, a Proud Boys defender.
The progressive slate of Anne McEnerny-Olge, Erik Paulsen, and Diana Perez won their races in Vancouver and Kim Harless is ahead as well. 
There are so many more that we don't have space to include. Just know that the progressive bench will be stronger than ever going forward!

Progressive Voters Guide: another year, another record
Every year we're astounded by the reach of the guide, and this year was no exception. In total, 134,000 Washington voters used the guide, which reached 15% of voters in our most important places. We researched more than 700 candidates and conducted more than 100 interviews, and our new Digital Campaigns Manager Isabel helped promote the guide with social media videos like this. Shout out to our PVG fellow Alex for all her hard work helping to research and write the guide this year!

Last year we asked you how we could improve the guide, and we were able to implement many of your recommendations this year. That includes more information about challengers, expanding the scope of the guide to local races like school boards, and including more small or rural cities in the guide. We've also added new partner organizations who we're excited to continue working with. We will be following up with yet another survey this year, so let us know what you think of the changes!

On the national side, we helped four other states put together guides of their own this year, with a focus on the high-profile races in Virginia. The combined readership from Washington, Virginia, Pennsylvania, California, and Colorado this fall was more than a quarter of a million voters! We can't wait to continue bringing progressive candidates to voters across the country, and our team is ready to tackle the big midterm elections next year with even more states.

What's next?
As a grassroots organization, our strength comes from our members across the state. Whether it's canvassing, calling Congress, or sharing the Progressive Voters Guide, you make our work possible.

Unlike political campaigns, our work doesn't end on November 2. Planning for next year's legislative session is already underway as progressives hope to keep up the momentum of 2021's historic session. From balancing our state's tax code to improving transportation and expanding affordable housing, we must keep pushing the envelope for progress in Washington.

While the results are still trickling in from Tuesday, we're also thinking about the 2022 midterm elections when every candidate will be running in a newly drawn district. After sweeping legislative victories, we'll need to go bigger than ever to defend our progressive champions and elect the first Democratic Secretary of State in Washington in 60 years.

We need your help to keep up the fight for progress every day, every year. Nearly 500 Progress Partners donate monthly to fuel our work. Will you join us by donating $5 a month?
Yes! I'll become a Progress Partner